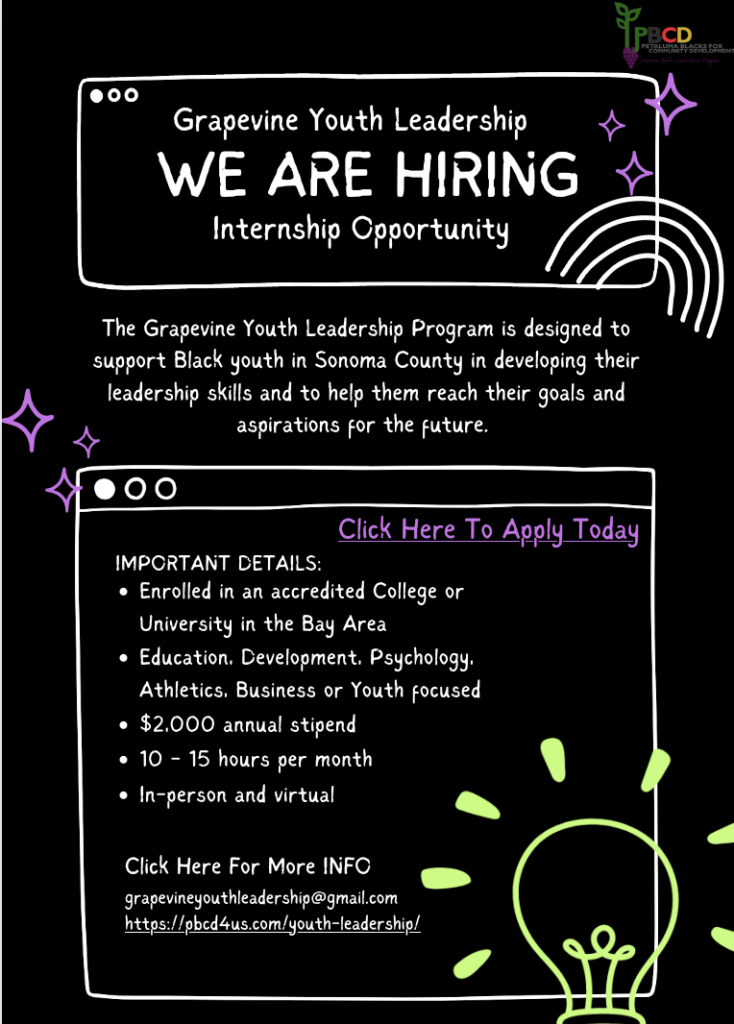 The Grapevine Youth Leadership Program is designed to support Black youth in Sonoma County in developing their leadership skills and help them reach their goals and aspirations for the future.  It also gives them a safe space to discuss the challenges and issues they may face as youth of color in our society and get support from peers and African American professionals, leaders and mentors.  Apart from leadership development,
Grapevine youth also participate in volunteer work in the community, create  and participate in cultural experience and participate in field
trips to museums, concerts and events.  The group also plans fun social activities for fostering fellowship and friendship.
     The group runs from September to June with opportunities for new members to join in August and January each year. Each session will consist of a combination of guest speakers, discussions, and  hands-on activities designed to explore leadership skills, different career options, and also
develop confidence and self-care skills.  The group meets  twice a month either online or in person for leadership development (speakers, projects, etc) and there is at least one in person field trip, social event or volunteer service opportunity each month.
     Dates and times for meetings and events during fall and winter/spring sessions will be confirmed after students are accepted into the program but leadership meetings are generally on a weeknight from 4:30-5:45pm and field trips, social events, etc are often on weekends.  We may also accept late applicants in the first few weeks after application deadlines as space permits, please email kristy@boblitt.com to apply after the posted due date
or for more information about the program.
If you know of any Black youth in the community who may be interested in
participating in the PBCD Grapevine Leadership Program, please refer them
to apply using the red "click here to apply" button above by the posted due date.
Applicants will be contacted when their application is received.
Feel free to share this information with people in your own community and
network!